For a good Belgian meal, I always turn to Heritage Bar and Restaurant. However, with my many repeated visits, I am always on the receiving end of differing food standards.
Heritage's uneven showing means that a visit to the restaurant is something of a wild card, but it also reiterates the fact that we should not give any eatery a firm pronouncement of its quality after a single visit.
This time around, I got it bad.
Thank goodness for the lively company that tolerated my unorthodox dining choice.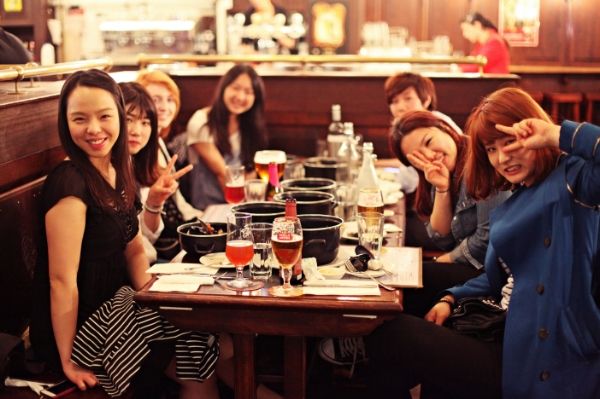 The
Tin Tin Au Congo
(lemongrass, chili and coconut cream) and
Siam
(Red curry, Thai basil and coconut cream) mussel pots, my usual suspects were a bit on the salty side and the mayonnaise sat with dead weight on the little dishes, as though they have been plated on a day in advance (
a practise adopted possibly in preparation for the public holiday
). Still, I would strongly suggest these two flavors should you be eyeing the famous mussels, the fusion of Thai and Belgian working to major success. The
Poulette
, in all honesty tasted like watered down chicken stock, shoved full of over-salted pieces of bacon. Disappointing.
Pictured above, the
Kriek
on draught, is a light fruity beer tinted a shade of girly pink from macerated cherries. A good choice for the ladies who want to opt for something a little sweeter.
We also gave the
Twice Cooked Pork Belly
a go. Served with apple sauce, sauerkraut and mash potato; I just wished the pork could have been a little more tender. Despite it's racy appearance, lined with an unctous layer of fat, the chop still lacked the 'wow' factor, itching benefits from a gently touch of seasoning.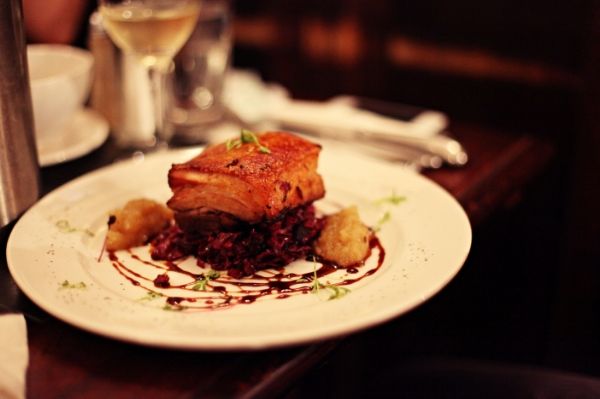 Hit and Misses are a plenty at Heritage Bar and Restaurant. However, with such a fun-loving, chillax atmosphere playing to its advantage; Heritage still remains as my go-to and fail safe destination for big groups.
Heritage Bar and Restaurant
135 Harrington St
Sydney, NSW 02000
website: http://www.heritagebarandrestaurant.com.au
Tel No: +61 2 9241 1775