I know a bunch of Koreans. I let them take me out to dinner. End of story.
It was what you would call, a match made in heaven.
Red Pepper in Strathfield occupies the most unassuming of locations, a joint effort with the usual sports bar at a neighborhood sports center. The design of the restaurant itself is at best 'minimalist', with no attention at all paid to the detail. However, despite of its unfashionably disheveled looks, Red Pepper has some of the best
Korean Fried Chicken
known to most of the local Koreans.
On my first visit, I did not dabble in that field, opting instead for the
Steamed Egg
and the
Agwi Jjim
, monkfish braised in a spicy sauce with bean sprouts and assorted vegetables. Underneath its fiery exterior, sat a wholesome feast of vegetables that I attacked repeatedly, a merry-making when consumed with steaming silver bowls of rice.
My return visit, accompanied by 4 others, with many farewells to bid, certainly called for a feast of ginormous proportions.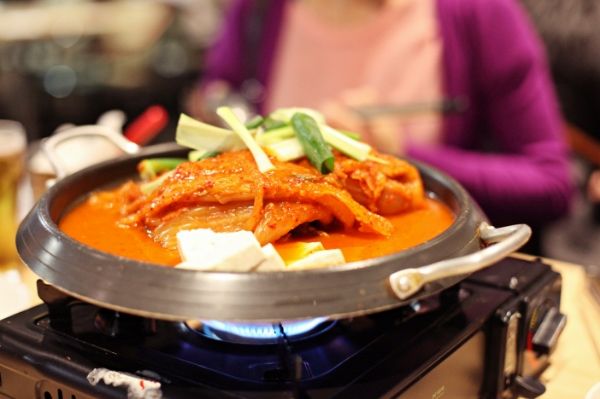 Breaking down the fried chicken menu, there are 11 different variations in 2 major groups, the 'Gangjung' or 'Original'. The
Gungnam
, no I mean Gangjung style is described as chicken coated with a light batter with flavor similar to Korean rice and peanut cookie. This is usually smothered in a sweet sauce afterwards. We choose the
Boneless Black Sesame Chicken
($32 for whole serve) and
Galbi-Jjim
($42) just to feed the hoards of hungry people. The former was delicious, bite sized boneless drumstick chicken chunks evenly coated with a crispy batter lightly seasoned with sesame seeds. Served with a mustard and a sweet chilli sauce, this was the perfect accompaniment to the beer we had (
$18 dollars for a huge jug of Pure Blonde
). The Galbi-Jjim, was a hot pot stuffed with all manner of good things; braised tender short ribs, spicy kimchi, tofu and more vegetables cooked in a sweet soy sauce broth. Perfect for wolfing down rice with. Then there's that guilt trip that follows...
Indeed, the food here is kept snugly familiar (at least to the Koreans), but the Fried Chicken is enough to keep me coming back.
Red Pepper
Strathfield Sports Club
4a Lyons Street,
Strathfield, Sydney
Tel: +61 (02) 9701 0911
Opening hours:
7 days, 11am till late