The last few days of the
Good Food Month
is upon us. WHAT ARE YOU WAITING FOR? Bishop Sessa is my third installment of the
Let's Do Lunch
series.
Arriving early for my lunch booking on a Thursday afternoon, I was surprised to find the restaurant stark empty. The voice in my head starts wondering whether I made the wrong choice in establishment. "I hope Sofia doesn't kill me if the food is thwack..." The monstrous winds outside, whistled impetuously, threatening to blow in dust clouds of leaves into the shop as I quickly crept in through the doors.
Seated, I conceded to wait for my companion. *tick tock*. No harm in getting the glass of Brown Brothers Tempranillo first while I wait. I liked that the Tempranillo was featured instead of the Pinot Grigio that we have had the previous two dining experiences; a seemingly perfect accompaniment to the richer Pork main that we were about to partake in.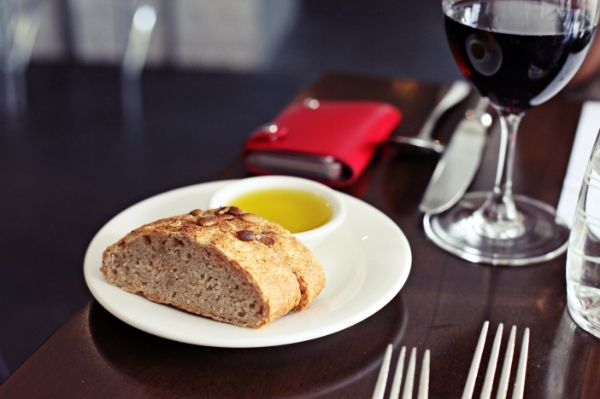 The bread arrives, chewy and dense in the middle with a wonderful crisp crust accenting the fine use of salt throughout combined with the heady aroma of toasted pepitas.
Bishop Sessa employs the nose to tail philosophy and takes pride in showcasing some of the best local produce on their menu. They also make as much in-house as possible, hence I assume that the slices we had are all products of the kitchen wizardry.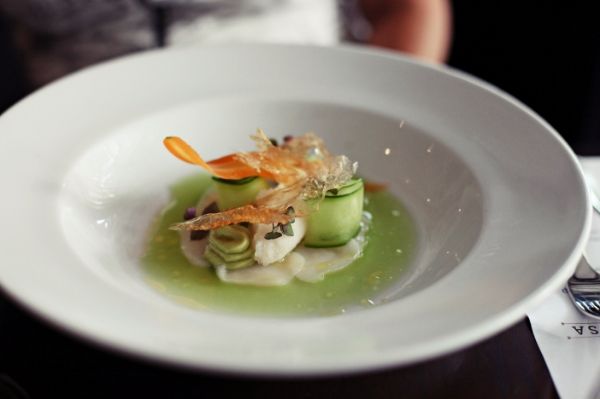 Our starters were quick to arrive at the table (
possibly because we were the only ones dining in that day
), a
Scallop ceviche, cucumber, avocado, ginger beer sorbet
($18). As dainty as this dish was poised to be, on the contrary, the dish proved to be big on flavor. The cured paper thin slices of scallop going down well with the cucumber ribbons and that refreshing ginger beer sorbet (
revoluntionary, I tell you
). The unadulterated avocado puree throwing in the word "creaminess" into the mix, whilst the crispy thin rice paper on the top teases the palate with it's umami shatterings. Definitely one of the best entrees I've had in a bajillion years.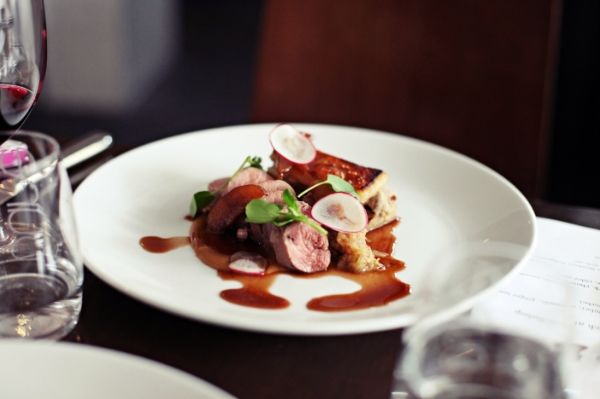 One look at the main,
Roast Melanda Park pork, charcroute, caramelized apple puree, cider sauce
($33) and my pulse quickened. Served in two cuts, the tenderloin and the belly with the crispy crackling as a roof overhead; I proceeded to tame the beastliest of appetites. In all honesty, I preferred the tenderloin cut, the belly not yielding to the knife as easily as I would like and lacking in a bit of seasoning overall. The sauerkraut could have used a touch more acidity and spices too. I was all praise for their caramelized apple puree that was a perfect complement to the pork, helping to soothe its gamy edges.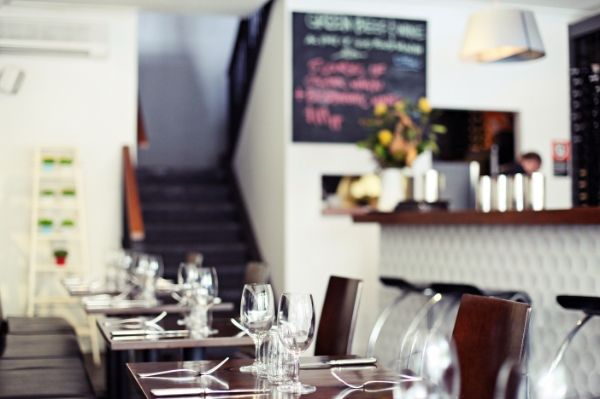 Bishop Sessa proves to be a diamond in the rough, presenting fresh local produce as well as unique food preparation techniques at affordable prices. Situated in the heart of Surry Hills, it certainly is accessible as well. For sure, it certainly hasn't seen the last of me yet.
Bishop Sessa
527 Crown Street,
Surry Hills, NSW 2010
P. 02 8065 7223
E. EAT@BISHOPSESSA.COM.AU
Website:http://bishopsessa.com.au/