A major thanks going out to Tom for the guided tour of Gelato Messina's production kitchen premises.
A pint of cool Estrella straight from the taps, followed by my relentless swooping into the soft pillows of gelato fluff and attack on the spread of frozen
monoporziones
. I truly deserved the indigestion I got later on.
The Gelato Messina central kitchen was like a Willy Wonka factory of sorts to me. Wall to wall alignment of sweet confections and fillers of all sorts, from white chocolate brownie to apple pie, you name it, they have it, and they even throw it into their gelatos. Gosh.. it's no wonder their weekly specials are always so mind-bogglingly innovative. With a pantry like that, it wouldn't be hard to get down and dirty with the mixes.
And as the live yogurt cultures fester in the large vats pushed up against the wall, ready to be used in their ever so popular yogurt-based gelato line; the Oompa Loompas work around the clock banging out gelato in dispenser packs to be distributed to their outlets, where the gelato is then churned on site to ensure freshness. Kudos to that strict deliverance.
Now, what sets Gelato Messina apart from other Gelato shops are these babies.
Monoporziones
Essentially like an French entremet but with gelato replacing the mousse layers. Perfect for Sydney's temperamental weather. The creative department (Messina's Laboratorio and Patisserie) has its own team of chefs creating intricate mono-portioned pieces that are simply not to be missed. This time around, parked outside the benches on the streets of Rozelle, we got to sample 5 of them.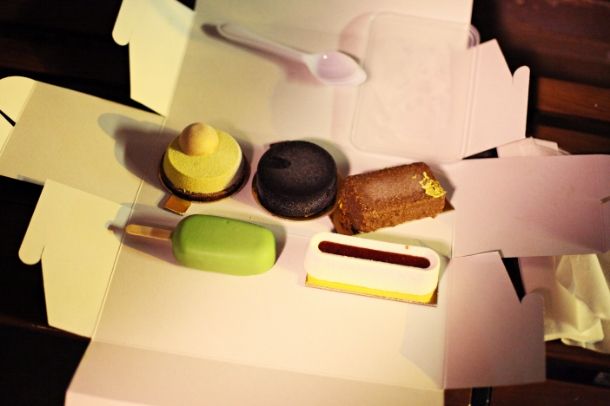 (clockwise from top left)
: Yes Peter, Pepe Le Pew, Golden Bluff, Strawberry Fields, My Big Fat Greek Lollipop
Golden bluff
($10)
Coconut gelato | Coconut praline | Coconut sable | Gold leaf
My Big Fat Greek Lollipop
($10)
Yoghurt gelato | Cucumber and lime sorbet | Blood orange sorbet
Yes Peter
($10)
Milk chocolate gelato | Passionfruit puree gel |Passionfruit curd |
Pepe Le Pew
($12)
Fig gelato | Crème fraîche |Honey jelly |Dark chocolate liquorice ganache| Chocolate almond dacquoise
Strawberry Fields
($10)
Strawberry gelato | Vanilla crème anglaise |Strawberry | marsala puree | Velvet white chocolate
I adored the deliberate juxtaposition of flavors, from herbal, floral to fruity and finally to rich nutty aroma. A variety of interesting ingredients take center stage in an attempt to differentiate the avalanche of frozen flavors that numb the taste buds. The standouts for me were the Golden Bluff for it's oh so delicious coconut praline layer and the Pepe Le Pew for its daring combination of herbal liquorice ganache with the subtle floral notes of the fig gelato. On the downside, unlike a traditional entremet, some of the layers prove too hard to be sliced through and consumed together with the gelato layers in the monoporziones. But who's stopping you from picking these up with your fingers and enjoying them as it is?
For more radical flavors and wacky gelato cakes, be sure to head down to one of their many stores located around the City. PSsst... there's even a new branch at Bondi now!
Gelato Messina
THE CREATIVE DEPARTMENT
- Laboratorio and Patisserie
243 Victoria St,
Darlinghurst NSW 2010
Opening times
Monday to Thurs :
12pm to 10pm
Friday/Saturday: 12pm to 10.30pm
Sunday: 12pm to 7pm
Other locations:
http://www.gelatomessina.com/contact/
Facebook:
https://www.facebook.com/gelatomessina