Serving stuff of privilege. It is in places like these that barriers between you and happiness are knocked down for a couple of minutes.
The SMH Good Food Month has brought about a whirlwind of events into my otherwise banal lifestyle, continuous long walks between home and the kitchen.
Let's do lunch (Part 1)
was a startling show of excellence and I was gingerly bothered by the prospects of comparison with Part 2. Black by Ezard was the next on our list with a bargain of a lunch with a choice of entree/main or main/dessert with a glass of wine for just $38. I was sold on that notion.
Situated in the Star Casino at Pyrmont, Black by Ezard, I suppose would be a popular dining destination for the high rollers. It's opulent decor mixed with the casual-professionalism of the waitstaff translated that quintessential Aussie style that speaks volumes of the wizardry performed by Melbourne chef, Teage Ezard, in the kitchen.
The bread is definitely worth exploring, a mini loaf of buttery fluffiness on a wooden board with a pat of room temperature butter. But hold your horses, as portions here are rather substantial.
We started off the meal with the
Sashimi of Hiramasa King fish
, sesame custard, edamame puree, chardonnay and shallot dressing ($27). Can't be faulted, the sashimi, fresh, the boccocini-sized balls of smooth sesame custard providing that nudge of earthiness creating a false sense of a re-invented
surf and turf
. Deliciously addictive.
Our mains, the
Corn Fed Chicken Faro Risotto
, parmesan cream, exotic mushrooms, blueberries and roasted chicken jus was a teethering stack of ingredients. And despite the portion challenge, it all disappears. The Chicken breast cooked sous vide first before being subjected to intense flames on the wood burning grill. The nice sear on the exterior bearing testament to an expert handling. I'm still transfixed by the crunch of the tangy blueberries within that helped to liven up the slightly heavy dish.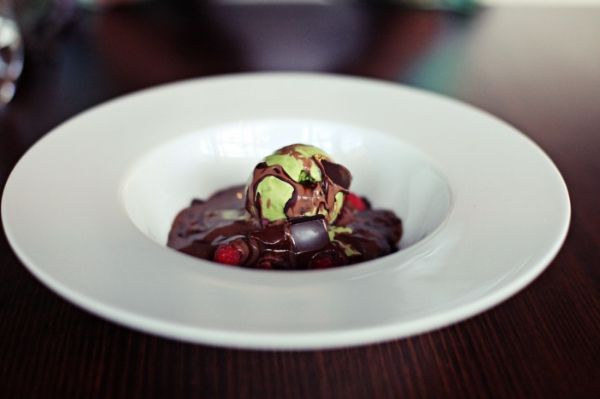 Dessert was a giddy, flagrant essay in deep rich mahagony. It's structured nest of chocolate broken down with the tilt of a jar of warm ganache over the thin chocolate shell. Albeit rushed, the wait staff failed to prepare us for the service of the dessert hence depriving me of a video opportunity. Needless to say, I was crushed; but shouldered on with the dessert. The needy green uncovered below the now liquid dome trying its best to recapture my happiness.
Chocolate Warm Couverture Ganache, Fresh mint ice cream, raspberry mousse with chocolate cookies
; despite being very one note in flavor profile, the mint ice cream on its own was a real delight to dig into.
Let's do Lunch installment 3 in the making tomorrow! I'm praying it will be legendary.
Black by Ezard
Level G, Harbourside, The Star
80 Pyrmont St, Pyrmont NSW 2009
tel:(02) 9657 9109
website: http://www.blackbyezard.com.au/