Hands in the air like you don't care.
Lunch at Gastro Park does evoke such response.
In line with Sydney Morning Herald's Good Food Month, several restaurants in Sydney are participating in '
Let's do Lunch
' which offer diners a signature main course and a glass of wine/beer at just $38! A real deal if you ask me since most of the main courses alone would set you back at above 40 buckaroos.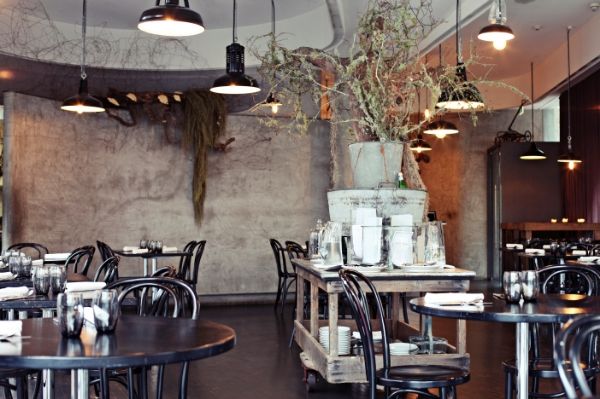 Gastro Park is one of the gentrifying factors amidst the chaos at Kings Cross, with an interesting premise - A Bohemian flower child space befitting of the Snow Queen, permanently set in permafrost. The food translates in the same way, sparsely placed, yet each element provoking a sensory reaction.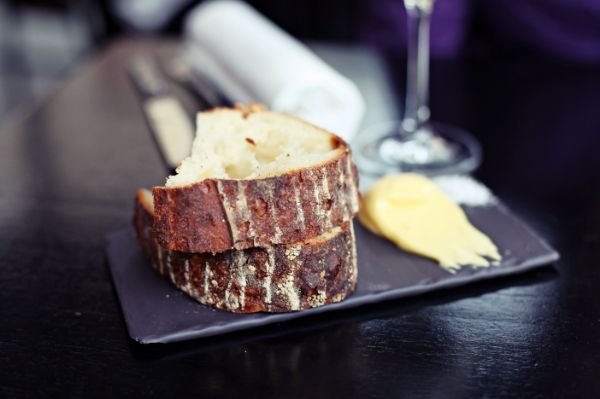 On the menu for 'Let's Do lunch' at Gastro Park, was the
Crispy scaled Jewfish, smoked potato puree, Calamari Crackling and Ink sauce
. Also known as the Mulloway, these silvery to bronze colored fish are prized by fisherman globally, because of it's declining population. Looking at the dish, you would start to wonder if the combination is a little too weird for you, but hear me out, this works. The scaled jewfish with a generous sprinkling of sea salt overhead had such a crisp exterior that came together so well with the slightly tannin tones of the artistic drizzles of ink sauce around the plate. The dollops of pillowy smoked potato puree proved explosive with rich smoky flavors filling the mouth in every bite. The calamari crackling, presented like a hellish version of the Asian prawn cracker was a delight to chip away at and devour, consciously looking at the surrounding tables in the mean time, as you try to muffle the sounds of delicious snapping. The accompanying glass of Brown Brothers Pinot Grigio's lean and crisp characteristics boosting my optimum appreciation for the dish.
The only let down was the house-made Sourdough bread which was a wee bit too chewy for my liking. The spongy innards reducing to a gobstopper worth of dough with a rigorous tearing action.
Dessert was a perfect canvas of a mysterious combination;
Chocolate, honeycomb,mandarin sphere, cardamom, saffron, ginger
($22). A love story of epic proportions. The chocolate sphere containing liquid chocolate mousse, spiced honeycomb and a teensy bit of mandarin curd shattering with the prodding of a spoon overhead. It's contents spilling into the surrounding textures and colors that I made out to be a ginger crumb below;
the colorful stuff remains a mystery
. A sophisticated version of a Cadbury bar if you ask me; but so refined to the stage that its' textural haven is hardly recognisable.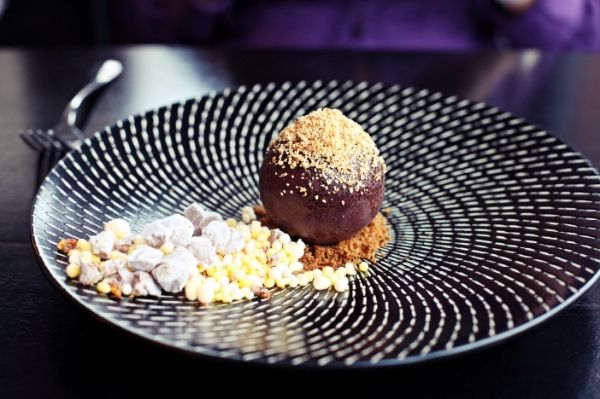 Gastro Park gets my votes for curious plating and ambitious cuisine. Pushing the forefronts of dining with unusual presentation and quirky techniques, yet still holding back with a non-confrontational stance in regards to ambiance and service style; Gastro Park should prove to be an ideal place for a date night or even a casual night out with friends.
Gastro Park
5 Roslyn Street, Potts Point
Tel: +61 (02) 8068 1017
Website: http://www.gastropark.com.au/