Strathfield has evolved into quite a food mecca;
for me
since moving into the vicinity. With a Korean mate at my beck and call, navigating Strathfield's food scene has been made pretty fail-safe thus far. Today, I bring you Ssong Ga Chicken, a comfy neighborhood joint that pays homage to the hotplate cooking done Korean style. Here, they don't beat around the bush with the menu, zooming in on their speciality, the different varieties of Ddakgalbi (classic, cheese, spicy, octopus, beef, etc...).
We had the
Cheese Dak Gal Bi
($32) which starts off as a barbecue platter of vegetables, Korean rice cakes, raw chicken with a heavy dousing of chilli paste over the top. Nothing too exciting till the fire starts. Then, the magic unfolds.
5 minutes into the wait, the wait staff comes around and stir fries the mountain of ingredients. Sprinkles a generous amount of cheddar cheese over the top. Puts the lid back on and leaves for another 3 minutes. The final act discloses a red hot delicious mess of unidentifiable things, all melded in a glorious helmet of bubbling melted cheese.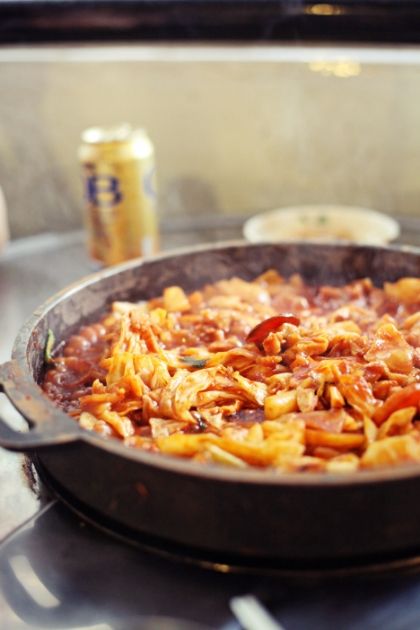 It feels sacrilegious eating this.
Hot plate + chicken + cheese = Foodgasm
Scrapping down the sides in search for those carcinogenic burnt bits which taste all the more better, I relished in the accompaniment of my beer. Homey fare had never tasted better. Definitely a must-return for me.
Ssong Ga Chicken
Churchill Avenue,
Strathfield