I must have walked past the restaurant a couple of times before I spied on the tiny, almost obscure logo that was peaking out from the side of the street.
Monopole, the younger sibling of Bentley; works within a stricter more tight compartment, yet within that space constraint, manages to churn out a more spirited and fun-loving personality. To start with,
make your reserv
ations early to secure the window seats that overlook Macleay Street, other seats in the house may just require you to be a smaller-built person to dine comfortably
.
Secondly

, consider opting for the weekend
2 course fixed priced menu for $38, which doesn't make you look like a scrooge honestly; and gives you more wallet room to splurge on the excellent wine-list they have here at Monopole.
After a glass of the 2012
Con Winning 'Paradise' Riesling
from Magn, Germany ($10), I was hooked and proceeded to order the carafe ($30) while waiting on a friend to arrive. Again, another case of forgotten grievances as I tucked into my glass full of citrus and floral aromatics.
For those of you who are craving a bit of kitchen action ( pardon me but I've got heaps of that at the workplace already), you can opt to huddle up in front of the open kitchen. Front row seats to the enticing sights and smells of the heart of the restaurant.
That very weekend, featured a
Roast Kurabuta Pork Belly
accompanied by sides of
New Season Bean salad
,
Soft Polenta with baby Sweet Corn
and
Cos Salad
. This time around, the pork belly was spot on, the semi-translucency of the fat layers yielding with the gracefulness of a ballerina to the heat of your tongue. The rare baby corns charred at the edges, perfectly congruous with the salty soft polenta it sits in. The bean salad tying in the meal to make it resemble a Sunday Lunch Roast with all the trimmings; albeit a tad more luxurious.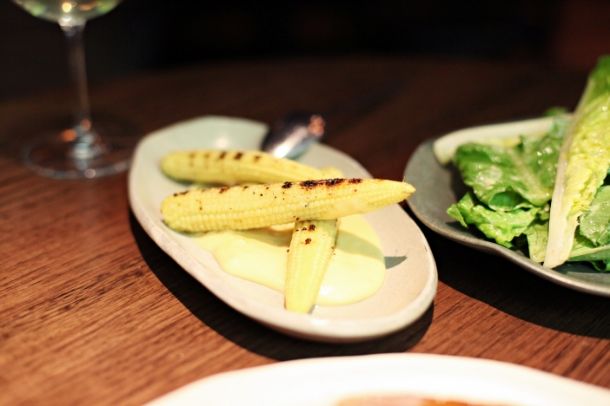 Our next course arrived in thorough summer fashion script, a
White Nectarine, Almond Jelly, Blueberry Sorbet with Pink Peppercorn crumble
. The mixture of textures, freshness of ingredients and that familiar breed of main culprits create a sweet playground of sensations on the palate. I particularly enjoyed the Almond Jelly which broke down all my walls for my pre-existing aversion towards Chinese style Almond Jelly.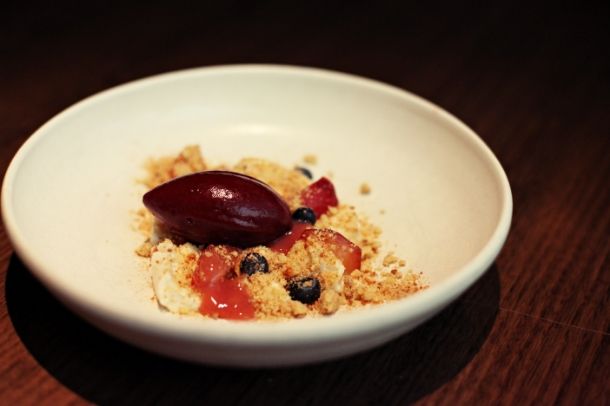 Date nights doesn't get much more perfect than at Monopole. The intimate space is a perfect backdrop for a creative fine dining menu that taps unusual techniques of cooking and one of the most sophisticated wine lists in the city.
Monopole
71 Macleay St
Potts Point 2011
Telephone 02 9360 4410
Website: http://monopolesydney.com.au/