I loved every minute at Watts on Crown. Till they served me those darn canned peaches...
Going back to the start of the night, the restaurant was a scene of tranquility and peacefulness. The calm before the storm. And believe me, it only took a mere hour before the entire placed was filled to the brim.
Bringing a taste of European elegance in flavors to the indulgent neighborhood of Surry Hills, Watts on Crown is the brainchild of a dynamic duo, Hamish and Tiffany Watt. Working the kitchen is Hamish Watt, previously from Kensington Place and Rockpool by Neil Perry; doing an equally impressive job on the floors is Tiffany who won us over with her genuine earnestness to please her guests.
Not exactly a design led dining paradise, Watts possesses a slightly eclectic vibe. With every corner and every wall looking just slightly mismatched. It's non-cohesive nature injects a bit of energy into the place to create an appetite inducing vibe. or maybe it was just me, I was ravenous to begin with.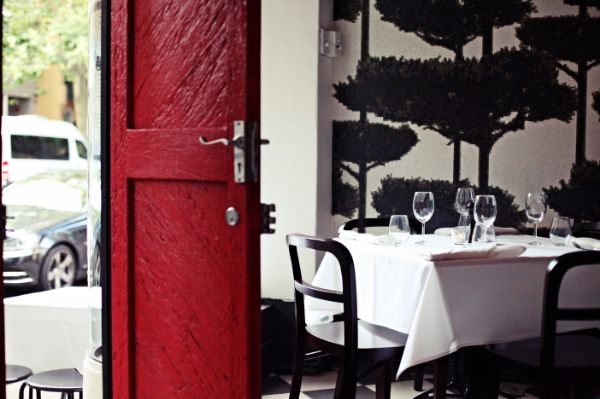 Soon, a whirlwind of activity, the kitchen churned out our appetisers in a jiffy.
I adored my friends'
Ceviche with seaweed and sesame salad, wasabi dressing and angel hair chilli
($15), an interesting juxtaposition of flavors and textures, it reminded me of a typical Korean side dish with its well executed balance of acidity and sweetness.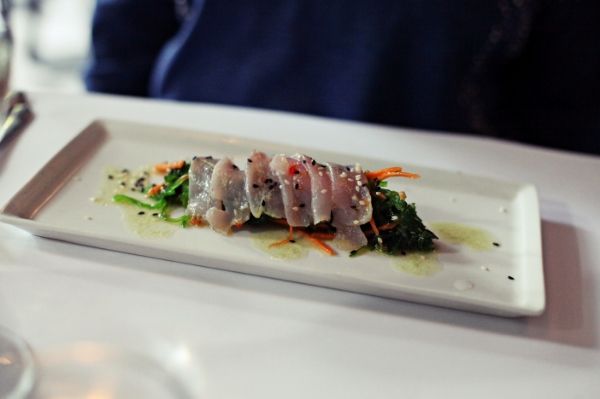 The 'Something to Whet the Appetite' menu carried a
Zucchini flowers stuffed with ricotta and preserved lemons, romesco sauce
($15.50) which I hastily opted for. This course however, came out a bit one noted and did not raise an eyebrow. The stuffing of ricotta and preserved lemons yearning for a touch more seasoning and the romesco sauce (essentially a sauce Catalonia in Spain that is nut and red pepper based) just bathing in mediocrity.
The mains fared better firstly with the
Grilled pork chop with soft polenta, cavolo nero and a rosemary and anchovy dressing
($29). A hunk of pinkish hued pork arrives on a blanket of braised cavolo nero alongside a drizzle of delicious rosemary and anchovy sauce. For those feeling a little more carnivorous, the
Char grilled grass fed Angus rump steak with cafe de paris butter, chips and a watercress, caper and lemon salad
($29) beckons with its tender and juicy facade, the cafe de paris butter tempting the salivary glands with its obnoxious sheen of gold.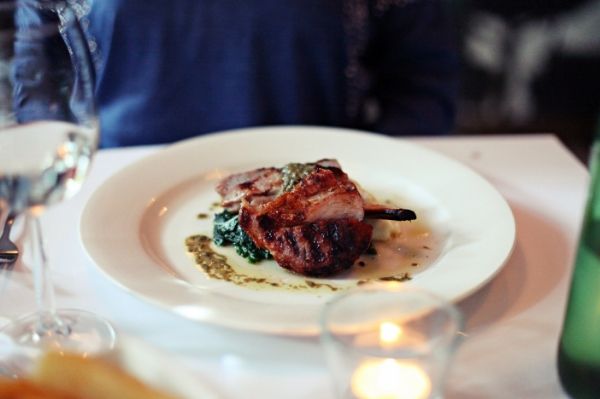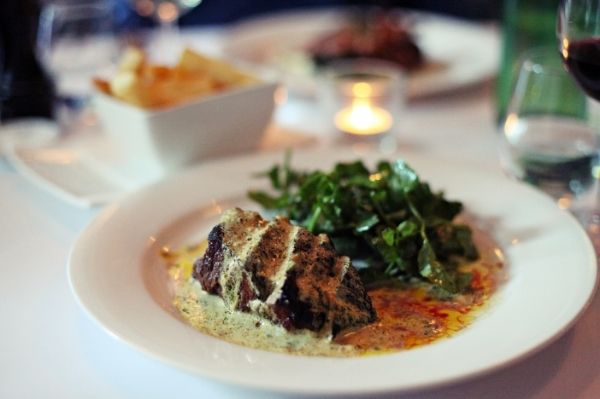 The desserts menu holds not too many surprises, yet its all-roundedness helps to keep everyone satisfied. The
Chocolate fondant with vanilla bean ice cream and honeycomb
($12), was a fail safe, albeit a bit unadventurous given the state of its more exciting mains.
All things were kept around pleasant territory up until now.
Peach Tart tatin with vanilla ice cream and roast walnuts
($12). Now that was an absolute disaster. Canned peaches? I swore I tasted the familiar ache of sweet peach syrups from a tin as I spooned through that dessert. To make matters worse, it was November, the height of the stone fruit season; you could easily have gotten a case of peaches for $18.99. I shook my head in disbelief as I painfully regretted not having gone with the strawberry shortcake instead. And a soggy puff pastry base soaked in the inexplicably saccharine peach syrup. Gob-smacked.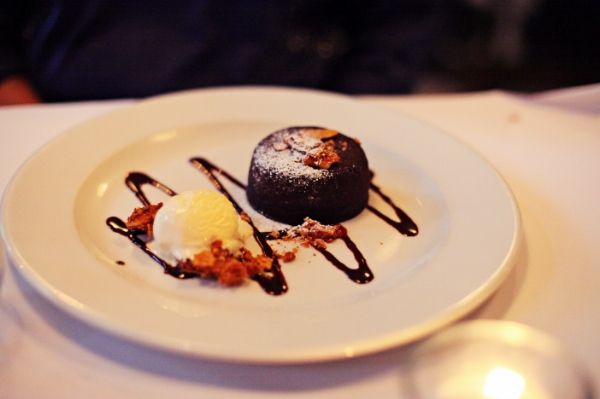 Watts on Crown
368 Crown St,
Surry Hills NSW 2010
Phone:(02) 8068 0461
Website: wattsoncrown.com.au