So whilst I was out navigating (or rather getting lost in) the Surry Hills region for my Visa medicals, I took the opportunity to indulge in a bit of a fancy lunch.
These days when the weather still gears towards the chilled side, I lunch hard,cause I feel as though lunch is one of the meals that I have under control. Other eating tends to be irresponsible.
Checking in to Devon Cafe along Devonshire Road, I was expecting a refined dining experience under extreme casual circumstances. You see, wife and husband team Noni Widjaja and Derek Puah have filled their new Surry Hills cafe with a very talented team; two ex-Guillaume chefs (Bennelong and Melbourne's Bistro) and a barista who used to train others at Toby's Estate. So I arrived with an empty stomach awaiting some form of enlightenment.
The setup of the cafe was gorgeous with a urban freshness to it. We were seated near the rear of the cafe that has been draped in camouflaged netting to create a green, urban oasis. The garage space in the back converted to dining space as well, with caged up fences and graffiti applied to the walls; we were half expecting a dance crew to magically pop out from the back of the restaurant with the silver rims on their cars spinning. But no... peace ensues and lunch continues.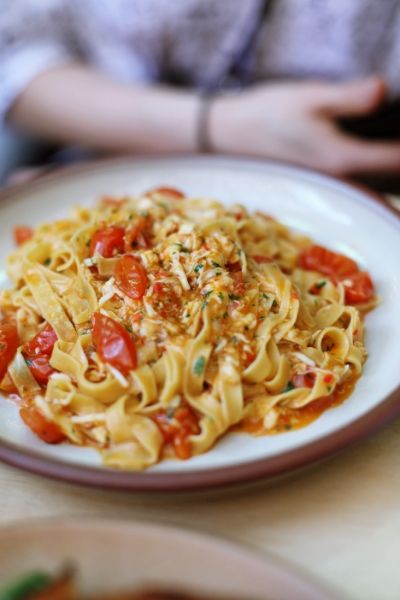 Spanner Crab Pasta
($25)was Noni's personal recommendation. Touted as the signature dish of the cafe, this simple dish incorporating house made pasta, cherry tomatoes, garlic and fresh spanner crab was very addictive. The generous amount of cherry tomatoes absolutely moreish and a perfect palate cleanser as we worked our way thru the
Slow cooked Lamb Sandwich
($15).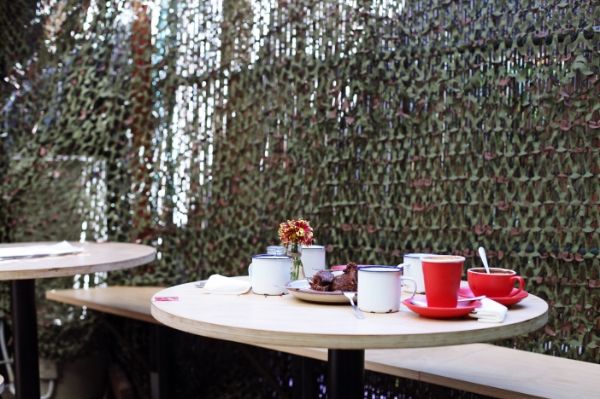 The lamb sandwich was a blackboard special and that in itself was a good reason to order it. The buttered and flat-ironed bread slices (from victoire bakery), together with the piquant carving of slow roasted lamb in all it's fatty glory, a little bit of herbs, melted cheese and roasted capsicums was an assault on the palate. Perfect for the winter and perhaps just a little too heavy in flavors for the more reserved Asian palate. But don't worry, one bite of the sweet cherry tomatoes over from the pasta dish and we were rearing to go once again.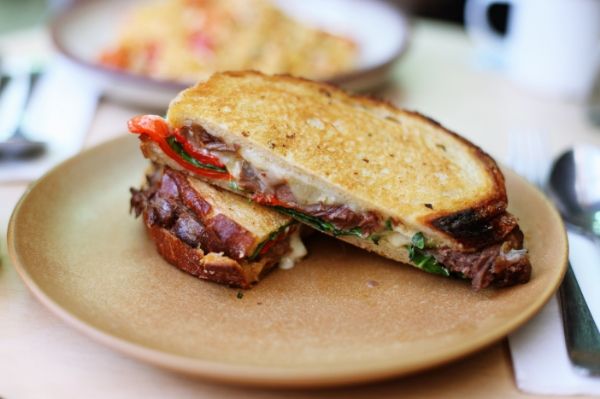 It's such a pity I missed the truffle season with Devon's cafe much talked about offering of the
Ultimate Toastie
; but I'm sure with Devon's take on introducing fine seasonal produce into casual cafe fare, something new, innovative and ultimately delicious will be in the pipeline. I'll just have to be patient.
Devon Cafe
76 Devonshire Street,
Surry Hills, NSW
Mon-Fri, 6.30am-4.30pm
Sat and Sun, 8am-3.30pm