Despite the inexhaustible variety available in Sydney, when it comes to a good party venue with simple yet delicious grub, my heart always performs a stiff following of El Loco as the chosen venue
Think location, up a gentle hill just off Central Station; meaning an inevitable casual walk down slope after the meal. Let gravity perform its magic as it lures it's victims, satiated and no less heavier back to their slumber stations. The venue is a casual, almost whimsical place, exuding a low key sexy vibe when it's less crowded; and a rowdy atmosphere that creates the hinterlands of your food fantasies when its packed. The food is sometimes a mash up between messy Mexican origins and a thread of Vietnamese influence.
The usual suspects include the
"Al Pastor"Pork "Torta" Sandwich
($10) which sees generous servings of grilled marinated pork from the spit, served on a soft bun with cabbage, coriander, spring onion and lashings of mayonnaise and pico de gallo salsa. Another would be the
Excelsior Hot Dog
($9), a beguiling strip of pristine milky white from the snowfall of cheese over the top. And my all time favourite, the
Carne Asada taco
($5) definitely a taco not to be missed, the conjugal bliss of tender beef strips, lemongrass marinade, spicy salsa verde and queso (chili and melted cheese)induces a lust for more every time.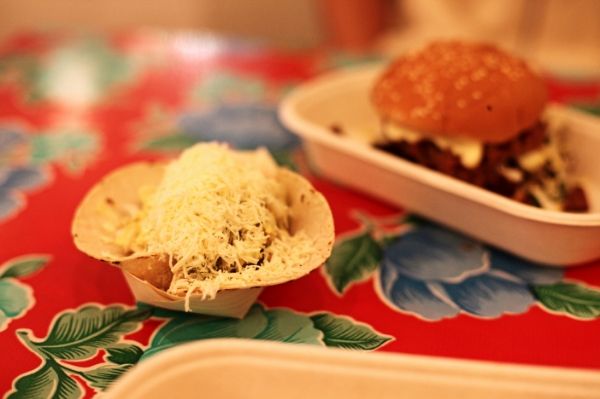 Some specials of the night include a beef quesadilla with chipotle mayonnaise and the calamari taco. Both of which were excellent. I would however stick to my staple of
Chorizo Quesadilla
($6) anytime. The freshness of the fried calamari masked behind the thick veil of spicy sauces could have used a boost with a touch more acid.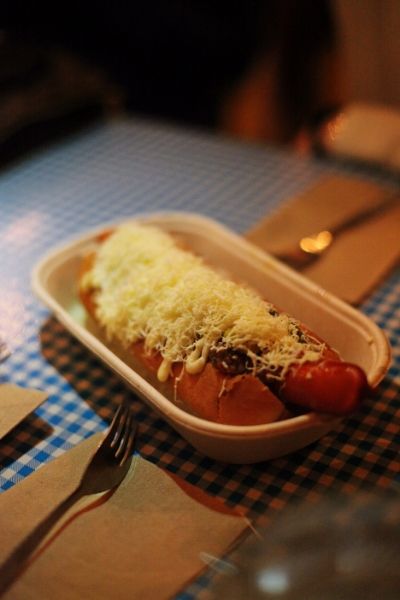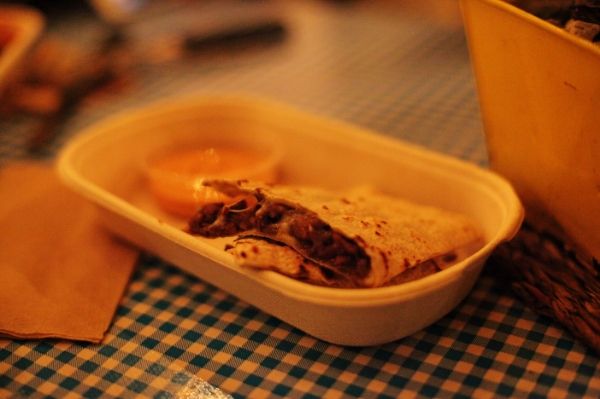 The star for me that night would have to be the
"El Loco Salad"
($12), a dish that has always managed to steal glances of envy from across the room. Ordinary midway until a late recovery attempt after a bit of tossing reveals a heady. thoracic warm amalgamation of flavors from the chili spiced tofu, shaved fennel and radish, cabbage, coriander, springs onion. The dreamy bits of avocado filling up the possible holes of disgruntled buzz from the healthy concoction. I adored the El Loco dressing, the balance between the sour and spices bringing up a seemingly simple salad to a new level. The fortified tower of fried tortilla chips making for a delicious snack for the peckish neighbours at the dining table.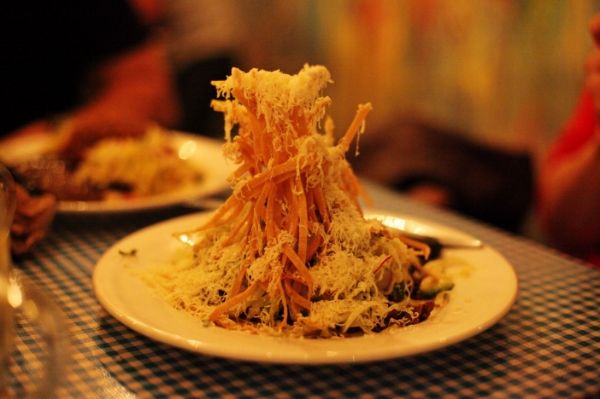 El Loco
Excelsior Hotel
64 Foveaux Street
Surry Hills, 2010

website: http://merivale.com.au/elloco/
Monday - Thursday 12pm - Late
Friday & Saturday 12pm - 3am
Sunday 12pm - 10pm