Cafe C has been one of those age old institutions on King Street, Newtown. A clever usage of its little corner; with it's Parisian style awnings, large windows and light airy casual environment that spills out on to the streets; keeps the patrons rolling in.
Despite having it's share of
personal tragedies
, Cafe C manages to pull through the muddled depths to emerge as a mainstay along the Newtown stretch. Unfortunately, it does not live up to expectations when it comes to food. The meal that we had was a dud, clumsy in every sense. Service was questionable, with service staff swooping in on our table with orders that weren't even ours and then leaving us deserted at times.
For a not so splendid start to the meal, our cappuccinos were sub-par, with the coffee under extracted leaving us with the resonating strong milk taste.
Vegetarian Omelette($16) with fetta, red peppers and a lineup of other 'greenish' ingredients; magnifique in size but not so big on flavor.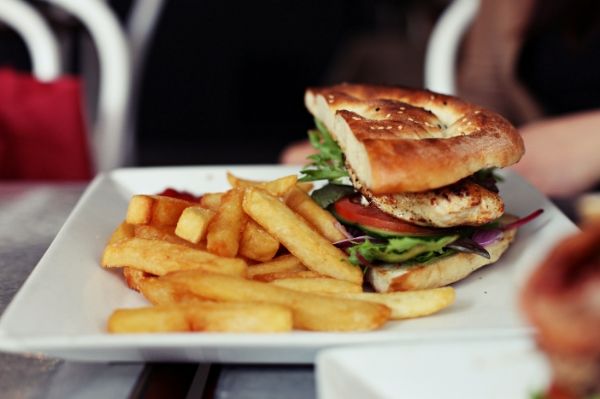 Another thing that amused me was the waitress's willingness to offer us the lunch menu at 10am in the morning. Imagine the frustrations of the chef as we sent in two burger orders amidst the crazy juggling of the impossibly diverse breakfast and lunch menus. And a bit of kitchen rage probably led to this: the Tandoori Chicken Burger ($18), lack lustre in flavor, with an almost non-existent presence of spices in tow. Thank goodness for the fries.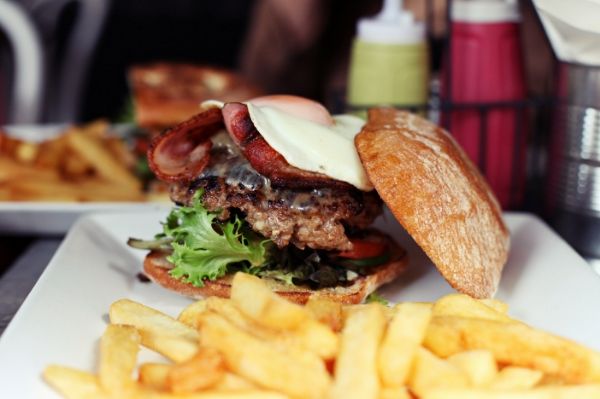 The Works
burger ($18) was conventional, surely, but flat-lined with a under seasoned beef patty that obviously had gorged on too much fillers. Completing the stack was a perfectly fried egg
(redemption points for that)
, beetroot, crisp bacon and cheese. At the end of the meal, I was full, but my sensory nerves revoking the entire experience.
I was suddenly again, hungry...
Milk Bar just down the row is calling out my name.
Cafe C
281 King St
Newtown NSW 2042
(02) 9550 6621